Wissenschaftszentrum Berlin für Sozialforschung (WZB)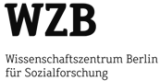 Hinweis: Einige Sammlungen enthalten auch Texte, die WZB-Forscherinnen und Forscher in der Zeit vor oder nach ihrer Tätigkeit am WZB verfassten (z.B. Universitätsschriften und Arbeitspapiere anderer Einrichtungen), die jedoch auf der Basis gesonderter Rechtsvereinbarungen von der WZB-Bibliothek digitalisiert wurden.
Some collections may contain publications that were written by WZB researchers before or after their activities at the WZB (e.g. theses, working papers published by other institutions). These documents were digitized by the WZB library based on special copyright agreements.
Collections in this community