21st European Regional ITS Conference, Copenhagen 2010
ISSN: n.a.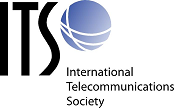 This collection contains the conference papers from the
21st European Regional ITS Conference
Copenhagen, 13-15 September 2010


"Telecommunications at new crossroads: Changing value configurations, user roles, and regulation"
During the past decades, telecommunications and IT have gone through fundamental changes technologically, economically and politically resulting in new challenges and crossroads. Convergence between telecommunications, IT and the media has reached a stage where entirely new value configurations are taking shape. The role of users is also changing with the widespread growth of social networks and other user centred applications. These developments raise new policy and regulatory issues, such as the governance of content and services. Regulatory questions reappear in new forms in the infrastructure area with the development of next generation networks. Furthermore, ICTs are increasingly applied in relation to energy saving, health and environmental issues creating new business potentials as well as new regulator/policy challenges.
Collection's Items (Sorted by Title in Descending order): 1 to 20 of 45
| Year of Publication | Title | Author(s) |
| --- | --- | --- |
| 2010 | Challenges in the regulation of broadband in Hungary | Bánhidi, Ferenc; Pápai, Zoltán |
| 2010 | Open Innovation Success Factors by ICT Use in Japanese Firms | Idota, Hiroki; Bunno, Teruyuki; Tsuji, Masatsugu |
| 2010 | Value Creation in a QoE Environment | Heger, Tobias; Schlesinger, Maximilian D. |
| 2010 | HDTV and DRM: A Need of Further Regulation? | Erber, Georg; Heitzler, Sven |
| 2010 | The transformation of household expenditure from offline to online: The case of South Korea | Lee, Dong Hee; Lee, Duk Hee |
| 2010 | Timing and determinants of local residential broadband adoption: evidence from Ireland | Lyons, Sean |
| 2010 | Network Neutrality and the Evolution of the Internet | Knieps, Günter |
| 2010 | Polish Mobile Phone Market - present situation and direction of changes | Czaplewski, Maciej |
| 2010 | Analysis of roles and position of mobile network operators in mobile payment infrastructure | Markendahl, Jan; Smith, Mark; Andersson, Per |
| 2010 | Cloud Computing: New Business Opportunities for Telecommunications Companies? | Koehler, Philip; Kraemer, Jan; Anandasivam, Arun |
| 2010 | Modernizing National Numbering Plan on NGN Platform - Hungarian Case Study | Sallai, G.; Abos, I.; Adamis, G; Sziráki, P.; Tamási, E. |
| 2010 | Information Technology and Russia's Social Modernization | Petukhova, Svetlana; Strepetova, Margarita |
| 2010 | Network Neutrality and Quality of Service: A two-sided market analysis | Köksal, Emin |
| 2010 | Assessment of First Comer Advantages and Network Effects; the Case of Turkish GSM Market | Tözer, Ayhan |
| 2010 | Independence of the telecommunications regulatory authority in Palestine: Institutional challenges | Dhaher, Omar |
| 2010 | Service Provider Market Activities Constituting Jurisdiction for International Service Contracts - A Structuring Approach and Techno-legal Implications | Waldburger, Martin; Macri, Alessandra; Stiller, Burkhard |
| 2010 | Modelling the impact of Next Generation Access (NGA) on voice termination cost | Jay, Stephan; Plueckebaum, Thomas; Ilic, Dragan |
| 2010 | A behavioural model of the adoption and use of new telecommunications media: the effects of communication scenarios and media product/service attributes | Hu, Tun-I; Fildes, Robert |
| 2010 | Wireless Broadband Access: Policy Implications of Heterogeneous Networks | Rendon Schneir, Juan |
| 2010 | Internet Usage for Travel and Tourism. The Case of Spain | Garín-Muñoz, Teresa; Pérez-Amaral, Teodosio |
Collection's Items (Sorted by Title in Descending order): 1 to 20 of 45